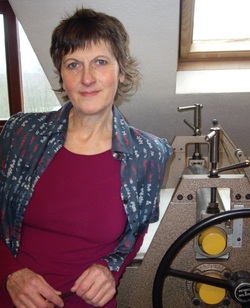 I I live in Todmorden, West Yorkshire where I also work from my fine art printmaking studio. I completed a B.A. Honours Fine Art in 1979 and an M.A. Fine Art 1997.
I work as a fine artist, printmaker and teacher and have taken part in numerous projects, residencies, solo and group exhibitions both nationally and internationally. I have lectured for more than thirty years in Further Education and Higher Education. I love teaching and working with groups of all ages and offer a series of Printmaking and Contemporary Drawing courses at my specialist studio in Todmorden. ​
In 2018 I completed a Residency at the University of Central Lancashire. I was AA2A Artist of the Year in 2013 and was awarded 'Highly Commended' at the FLOURISH 2014 Awards for Excellence in Printmaking. In 2004 I received the Printmaker's Printmaker Award at the National Printfest.
My approach is organic and intuitive. I work across a range of drawing, printmaking and textiles media. It is my love of drawing and colour that provide the starting point and inspiration for my image making. I find all forms of printmaking intensely inspiring and creative. The framework of printmaking gives me a structure in which I can be experimental and free. I use intaglio and relief printing techniques to explore form and line, and to generate new life in the process. I often work with multiple plates and create images as I draw on these side by side.
Water surface, movement and the tides feature strongly in my work as a metaphor for change and renewal. I am especially inspired by water, rivers and marine life and its intrinsic connection to our own internal anatomy. As an artist I experience a powerful link between health and creation.
In 2010 I took part in the Textiles Group Residency at the Bankfield Textiles Museum Halifax. During this time I developed a series of work called 'The Memory of the Blanket Story', combining textiles and printed surface. The input of textiles connected my own early life experiences and that of being a mother. The work links the image of a blanket lost at sea, reappearing on the surface with thoughts of my sons and their migration. away from home. Travelling over water is a current theme through which I consider ways to connect distant shores and to make statements about our changing lives.
In 2005 I completed a six month residency and solo exhibition at Lanternhouse International Cumbria and followed this with an exhibition at Brantwood, Ruskin House Gallery and then Lancaster University Gallery, Cumbria. Some of the imagery at this time was developed with the use of microscopes at Lancaster University, through which I studied the contents of water droplets collected from the shores of Morecombe Bay and County Mayo.
I completed a series of works about the Tideline of Morecambe Bay and continued this work in County Mayo, Ireland in 2007. During the Lanternhouse residency I collaborated with the pianist Camilla Saunders to produce a Music and Image Installation. This work led to a residency in County Mayo and input to the film 'Those who Dance' linked with the Shell to Sea campaign. In 2004 and 2005 I exhibited at the National Printfest in Cumbria and received the Printmaker's Printmaker Award in 2004.